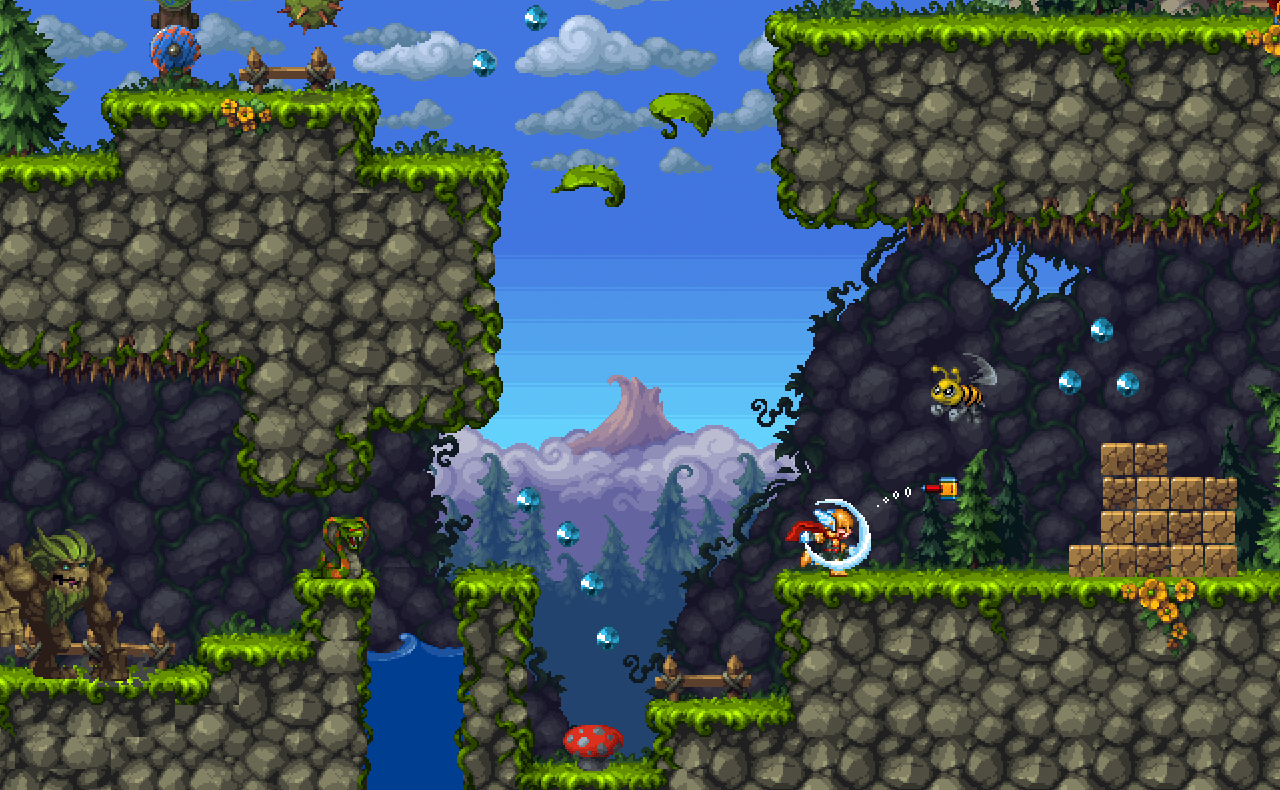 Tiny Thor
Tiny Thor
Unleash the power of Mjöllnir in this 16-Bit retro inspired action platformer with beautiful pixel art by Henk Nieborg and a music by Chris Hülsbeck.
Features
16-Bit pixel art by legendary Henk Nieborg
Soundtrack by Chris Hülsbeck
Throw the hammer to destroy enemies and surroundings
Epic boss fights
Collect jewels and coins
Solve tricky switch puzzles
Learn awesome special capabilities and weapon upgrades
Explore four big worlds divided into 40 stages
Lots of secrets to discove
| | |
| --- | --- |
| Status | In development |
| Author | joemanaco |
| Genre | Platformer |
| Tags | 16-bit, Action-Adventure, Arcade, Colorful, Difficult, Metroidvania, pixel, Pixel Art, platform, Retro |
| Average session | A few minutes |
| Languages | German, English |
| Inputs | Keyboard, Xbox controller, Gamepad (any), Joystick, Touchscreen, Smartphone |
Comments
Log in with itch.io to leave a comment.
How much more funding do you need? Even if it is a wild guestimate!

Right now we're completely funded. In October we got accepted in a new program by the german government. Since then we're working fulltime on the game and we hope to have it ready for release by the end of this year.
I purchased the game in Feb 2018, and the download link to test the game isn't functioning or something. Anyone else have this issue?
Hi @burbs00,
this is only a pre-order. So, this is correct. We're sorry but we had to delay the game multiple times because we ran out of money, had switched back an forth to contract work to get enough budget to finish the game. At the moment we're working on the game again.
If you want to have a refund please drop me a message anytime.
Jochen
Oh, well, no worries! I understand difficult times can happen. Please keep the money. If you go the crowd-sourcing route or even handheld gaming (Switch?), I'll help out there as well!
-Joe
What is the game's native resolution? I'm guessing 640x480 from some of the artwork.
Trying to assess feasibility of putting this in a CRT cab.
Dunno if this helps. But it's what I could find.

Link - https://asylumsquare.com/#blog/2018-03-09/2D-Platforming-meets-Breakout.html If you want to read more.
Thanks! Later in that post they say they stuck with 320x240, which would be perfect. Eager to see how this will look on a CRT. Had my eye on this game for just that reason.
Hi, the native Resolution is 426x240. This is because that we decided to choose a 16:9 aspect ratio so it scales up nicely with most modern resolutions without destroying the pixel art or introduce blurriness.
I guess that might be a problem putting it in a CRT cab, right? Do you have any suggestions we can do, so this becomes possible?
I think I can do 448x240, so I can just center the game in that space. Then I may need to make analog CRT adjustments to fine tune.
400x256 is available too, but shaving 13px off each side might be too much